Apple seems to have teased some upcoming Apple Watch Ultra and Apple Watch Series 8 features on the product page of each device. First of all spotted by 9to5Mac, features include things like race route, full dive computer functionality and HomeKit integration from the wrist.
Some of them were announced by Apple during the official announcement of the last generation in September, but, before that, there was no clue on when they would actually arrive. It seems that a change in the page previews on Apple's site shows that they could arrive soon.
Instead of no reference to features, a "Coming Soon" banner now appears next to certain sections, with a few description elements hinting at a release before the end of 2022.
Race route
As seen on the Series 8 product page (but not the SE 2), a feature that appears to be called "Running Route" will be coming in a future version of watchOS 9.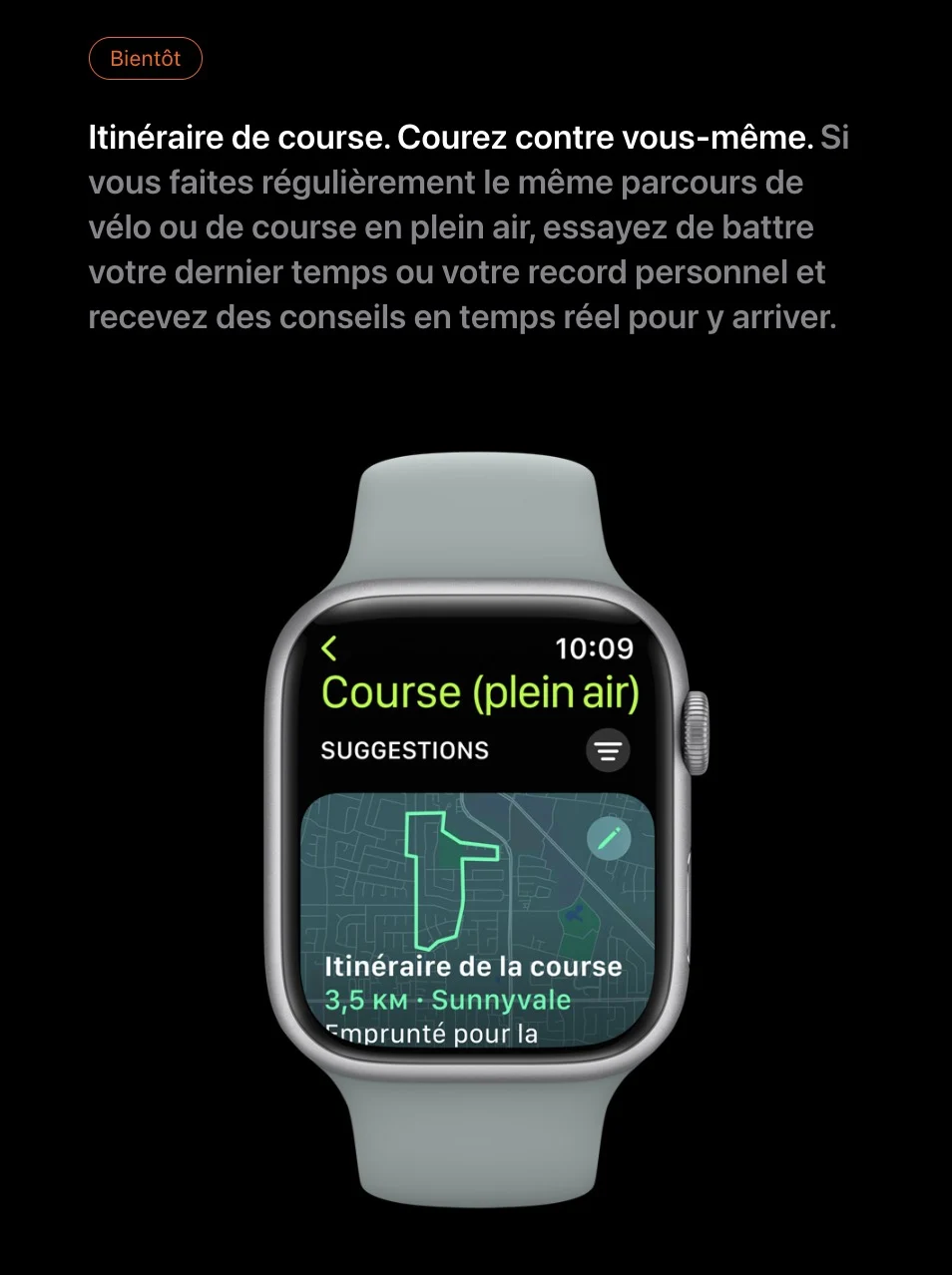 Apple describes it as "coming later this year", saying those whose training routine includes running outdoors or cycling the same route will be better able to match their best performance.
" If you regularly do the same outdoor bike or running course, try to beat your last time or personal best and get real-time guidance on how to get there ", can we read on the page.
Trace detection
This feature only appears on the Apple Watch Ultra page for now and gives us a preview of how the Exercise app will handle track workouts. It seems to automatically detect the user's presence on a running track, then asks for details regarding which lane, presumably for more accurate tracking.
"Exercise detects when you arrive at a track and uses both data from Apple Maps and GPS to provide the most accurate pace, distance and route map"says Apple.
Oceanic+ support
We got a lot of details about the ability of the Watch Ultra to act as a dive computer when first presented a few months ago, but aside from using the Depth app to record water temperature and, well, depth, a full-fledged app was missing.
That full support is coming, however, with the Oceanic+ app also announced on the product page. "The Oceanic+ iPhone app doesn't just calculate the depth and duration of each dive. It also includes metrics like tides, water temperature, and even other community-shared info like visibility and currents."says Apple.
Users can also use thesmart watchto plan dives, with safety warnings included. Depth tracking, GPS tracking, a logbook of up to 12 dives, snorkeling and other functions will also be available in the free version of the app, but a subscription will be required to benefit advanced functions.
HomeKit integration
Although there is no mention of this on any Apple Watch product page, a future Family Setup update will bring HomeKit capabilities to Apple Watch devices set up for children. "Your kids can be invited to the Home app as members and can control your HomePod speakers and smart home accessories like thermostats and lights"says Apple.
The possibility of letting the parentsadd house keys, hotel keys and more to Walletfor children from Family Setup will also arrive in a future update.
Apple announces 'coming soon' features on Apple Watch Ultra and Series 8